Southern Route
From Sargans
to Giogo della Stelvio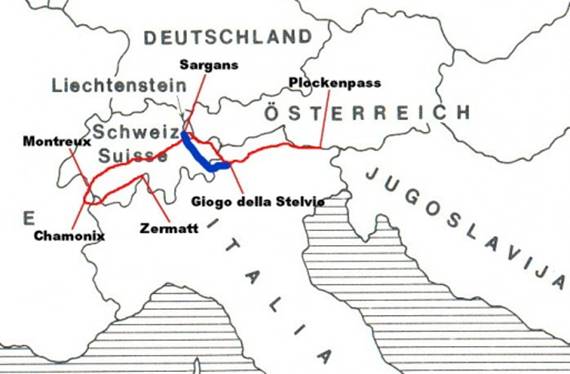 A description of the route taken from Sargans, Switzerland through the Engadine Alps, over Bernina Pass into Italy to the Giogo della Stelvio Note: This route was done in two sections: Passo del Bernina to Sagans and Passo del Bernina to Giogo della Stelvio and will be described according to this itinerary.
Passo del Bernina to Pontresina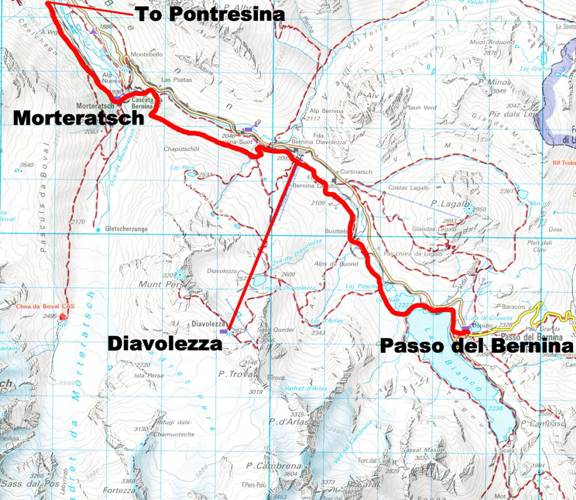 July 30, 2006   I left the hotel in Pontresina (6922ft) at about 7:30a and walked down to the train station and caught the train up to Bernina Pass. The train worked its way up the Val Bernina for six to eight kilometers to Morteratsch (1896m – 6220ft). From there it climbed a short steep grade up into the Val Bernina and passed through grassy pastureland to the station at Bernina Diavolezza (2093m – 6867ft) where the tram to the Diavolezza is based. After a short stop the train continued on, gradually rising through more pastureland and across small streams up to Lago Bernina and the Bernina Ospizio Station (2253m – 7392ft), near Bernina Pass (2328m – 7638ft) and the Italian border.
From here I started the hike back down to Pontresina. It began with a short climb up a good trail through a little rocky spur next to the station.  It then followed the train tracks for a short distance before crossing the stream below the dam and intersecting with the trail leading down the west side of the lake and continuing down the valley. This trail led through alpine pastures, periodically crossing and recrossing the railroad track, for about two hours, on its way down to Bernina Diavolezza. From the tram station the trail kept to the south side of the track and passed through pastureland and small pine forests as it gradually lost elevation. After another leisurely hour and a half the trail dropped down a short bouldered section to the railroad stop at Morteratsch. From Morteratsch the way led gradually down through forest alongside the rail line and the river to Pontresina. Altogether it was a pleasant all day walk (with a stop to take the tram to Diavolezza).
Pages: « Previous 1 2 3 4 5 6 7 8 9 10 11 12 13 14 15 16 17 18 19 20 21 22 23 24 25 26 27 28 29 30 31 32 33 34 35 36 37 38 39 40 41 42 43 44 45 46 47 48 49 50 Next »