Pontresina to Filisur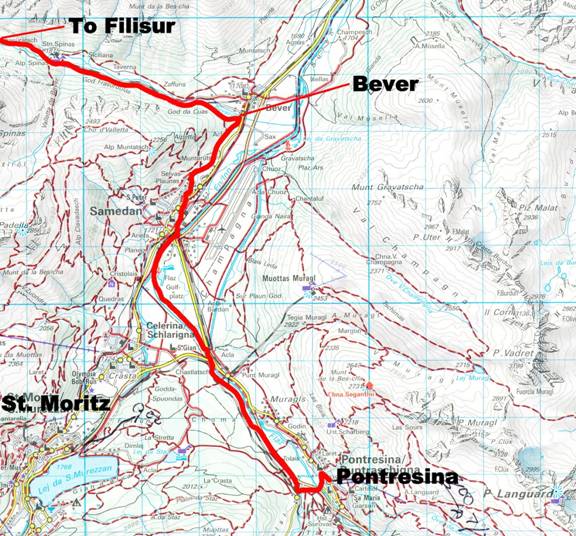 July 30, 2006   Got an early start for a long day hiking from Pontresina to Bever, over Fuorcla Crap Alv, and on to Filisur; about 20 miles. The first section was a gentle walk down to Pontresina train station and then a pleasant walk down the valley to Samedan and on to Bever (about one and a half hours).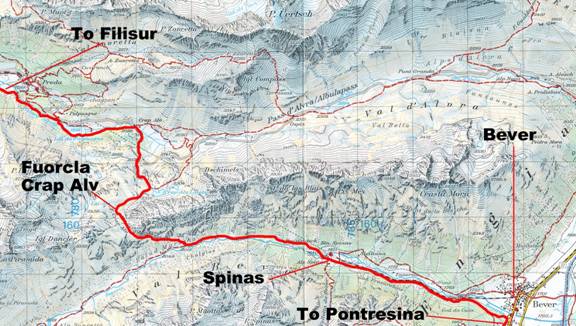 July 30, 2006 CONTINUATION   From Bever (1708m – 5603ft) I followed the road beside the railway line for several miles to Spinas near the portal of the railway tunnel. There was a trailhead behind the lodge at Spinas and I continued up the valley for several miles to a fork in the trail. I turned right onto the trail leading up the hillside and after a steep climb up through rocky terrain,  came to Fuorcla Crap Alv (2466m – 8091ft) about one hour from the fork in the trail). The Fuorcla was a grassy but boulder-strewn pass that led over the crest and then down into the valley near Albulapass. From the pass I descended steeply down grassy benches into the valley below and  then continued on for several miles passing near the village of Preda (1789m – 5869ft).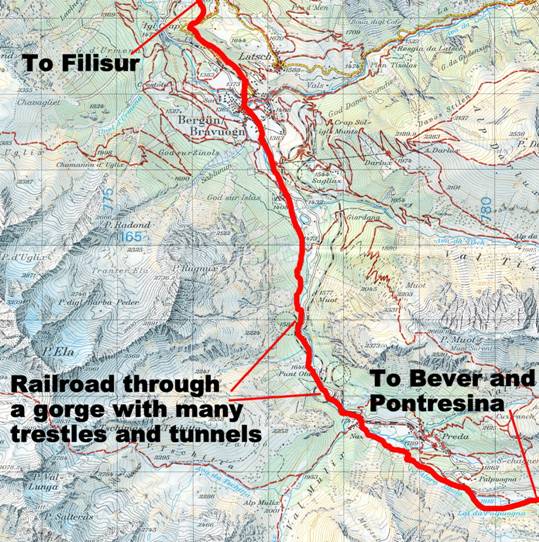 Pages: « Previous 1 2 3 4 5 6 7 8 9 10 11 12 13 14 15 16 17 18 19 20 21 22 23 24 25 26 27 28 29 30 31 32 33 34 35 36 37 38 39 40 41 42 43 44 45 46 47 48 49 50 Next »