Ucia de Senes to Hotel Hohe Gaisi (Passo Pradopiazza)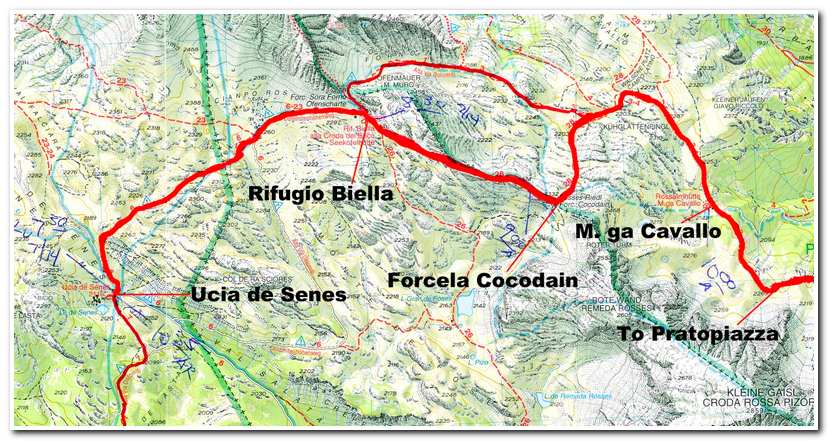 July 14, 2008I left Ucia de Senes at 7:30a and hiked up, in clouds, along a dirt track, for about two miles to the Rifugio Biella (2325m – 7628ft). The rifugio occupied a position near the ridge crest running southeast toward the Forcela Cocodain. Although it was cloudy and threatened snow the rocky ridge offered a scenic trail as it traversed the ridge to the Forcela Cocodain (2332m – 7651ft) (9:10a). From the forcela the path led north down through rocky ledges and heather with many wildflowers. After a short distance the path turned and entered a short narrow section before turning southeast and dropping down to a shepherds hutte at M. ga Cavallo (2142 – 7028ft) (10:00a). I stopped here for hot soup and coffee.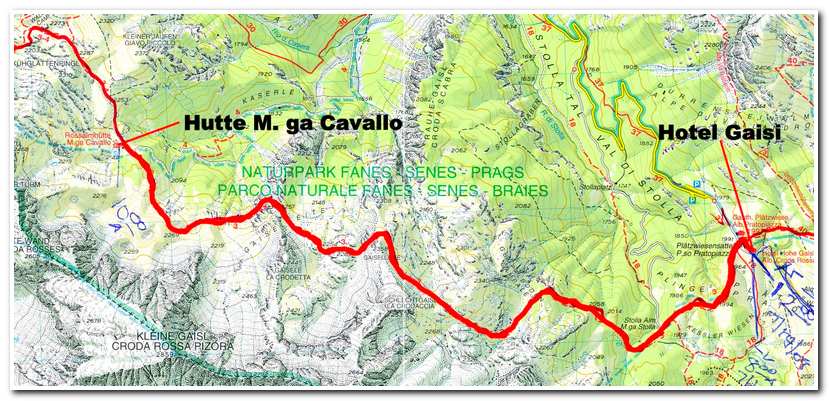 July 14, 2008 CONTINUATION   I left the M. ga Cavallo and followed the trail which rose steadily to a high airy traverse of the Gaiselleite, a high ridge leading southeast. Parts of the trail were aided with cables and as I reached the top of the ridge (2358m – 7736ft) on the flanks of the Piccola Croda Rossa (2853m – 9360ft) it started to snow. The wind soon came up and thunder boomed around me as I beat a hasty retreat to the trail for several miles to the Hotel Hohe Gaisi at Passo Pratopiazza (1991m – 6532ft) (12:00 noon).
Pages: « Previous 1 2 3 4 5 6 7 8 9 10 11 12 13 14 15 16 17 18 19 20 21 22 23 24 25 26 27 28 29 30 31 32 33 34 35 36 37 38 39 40 41 42 43 44 45 46 47 48 49 50 Next »