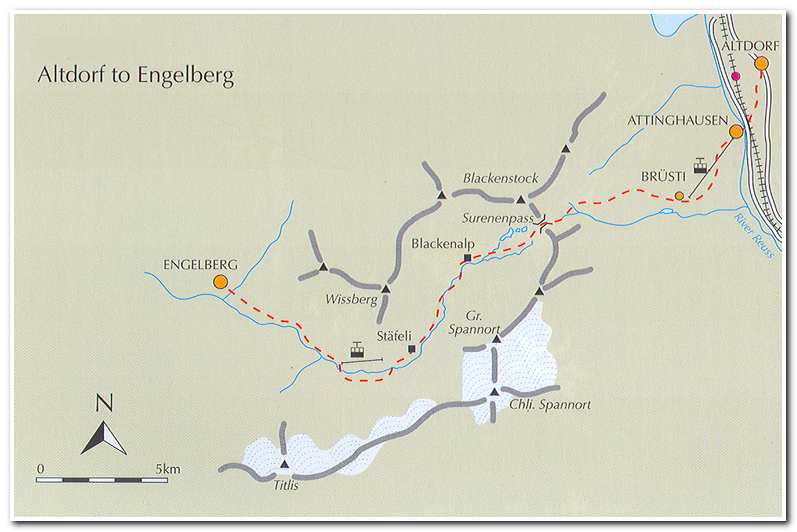 From the William Tell Statue in Altdorf (9:00) it was a short bus ride to the village of Attinghausen (9:15), just across the Reuss River from Altdorf. The cable car was unmanned and the operator had to be called at the middle station and told "I want "bergfarht, bitte".  At the top station of the cable car there was the small hamlet of Brusti (ca. 5000 feet) and a sign giving direction to Surenenpass. The trail led past a few houses and along a short vegetated crest bright with alpenroses and stunted pines. Then a short rail-guarded section descended a little and eventually led to Grat (10:15; ca. 5970 feet). The views must have been great but unfortunately it was very foggy and all this section of the trail was done blindly.
About 45 minutes past Grat and after continuing to follow the green crest I came to a signpost in a saddle marked as Angistock (11:00; ca. 6660 feet). The fog began to part now and I could see the pass across a long scree slope. The path left Angistock and descended slightly over a rocky area and then crossed over scree and snowfields before rising sharply to Surenenpass (11:50; ca.7515 feet). The view to the west of the pass was spectacular. It is dominated by the Titlis (ca. 10620 feet). A short distance beyond the pass the Seewan tarns lay in the high alpine pastures below.
From the pass the route went left and then down through pastures, just above the tarns, and in another hour or so brought me to Alphutte Blackenalp (1:05; ca. 5815 feet). Here the path continued along a farm track and passed through a natural 'gateway' and crossed the Stierenbach on a stone bridge before breaking into an open section of the valley. In another 20 minutes the trail re-crossed to the right bank of the stream and came to a trail junction. From the junction the trail continued down the left fork near a waterfall and meandered down to Berggasthaus Stafeli (2:15; ca. 4570 feet). The final section of trail led downhill for another 30 minutes to the Restaurant Alpenrosli (2:30; ca. 4125 feet). After having a late lunch I caught a 3:00 bus down the valley to Engelberg (3:30; ca. 3300 feet).
Engelberg is a major mountain resort area that was originally developed around a huge Benedictine monastery founded in 1120, and then rebuilt after a fire in the 18th century. The monastery was named by Pope Calixtus II, Mons Angelorum, from whose German form Engelberg was derived.