July 14 2006 Cabane Prafleuri to Arolla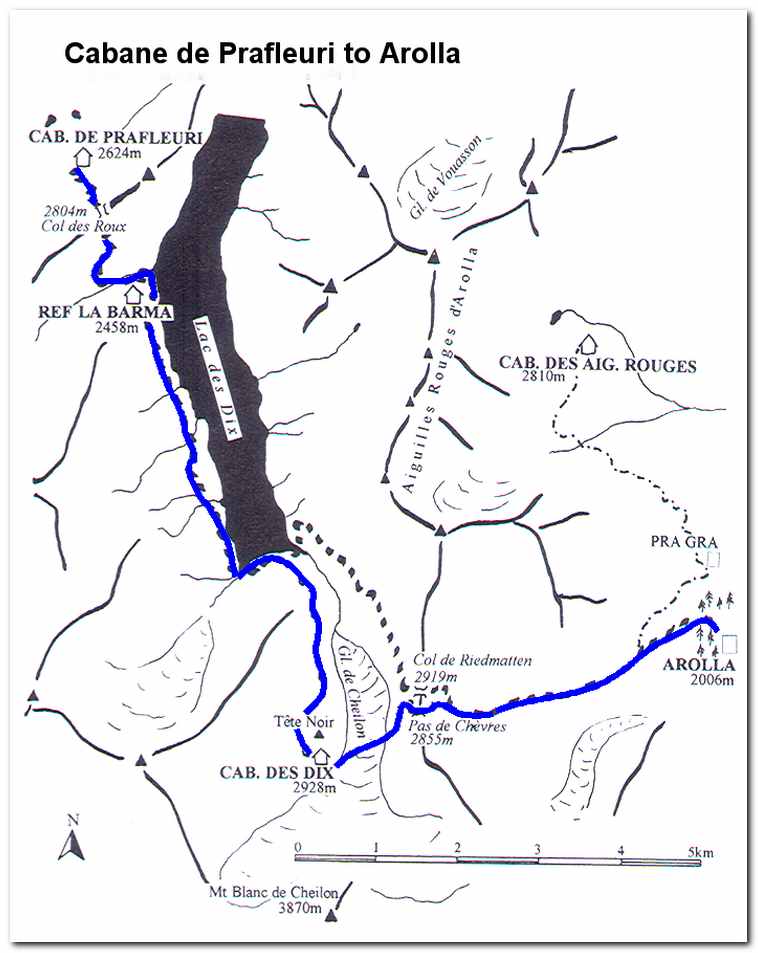 After a good night's sleep we got up early, had breakfast and hit the trail at 6:30. From the Cabane de Prafleuri took the trail to the obvious pass just to the south of the hut. The trail led up a slope of boulders and rocks which led quickly to the Col des Roux (ca. 9200 feet). The route crossed over the Col and continued on, descending through boulders and scree at first, then grass and heather-slopes down to a farm chalet at La Barma (7:30; ca. 8060 feet), just above the Lac des Dix.
From La Barma the trail followed the track around the lake to its south end where a signpost marked the trail to Cabane Dix leading sharply up and to the right. The trail then ascended fairly quickly passing through a series of rock bands and heather-slopes until it reached an upper valley moraine next to the Glacier de Cheilon. Towards the end of the moraine the path forks and we took the right hand option which led over rising grassy slopes and onto scree by which we gained the northwest shoulder of the Tete Noire. The Tete Noire hid both Mont Blanc de Cheilon and the Cabane des Dix until the last moment. As the trail rose toward the saddle on the Tete Noire a great panorama was seen off to the east. Far beyond the ridge of the Monts Rouges a great jagged collection of peaks held our attention. The profile of the Matterhorn was clearly visible appearing as a distant stiletto with a prominent shelf projecting to the south just beneath the summit. Once the saddle was reached we had an explosive view of the north face of Mont Blanc de Cheilon and the Cabane des Dix perched on top of the rocky knoll nearby. We reached the hut at 10:00 after only three and a half hours on the trail.
Since it was still early in the day we decided to continue to Arolla over the Pas de Chevres and set off at 12:00, first descending down scree slopes to the Glacier de Cheilon and across dirty old ice to the east side of the glacier where we followed boulder strewn trail upward to the base of the famous ladders that lead to the top of the pass (12:45; ca. 9365 feet).
From the pass a nice broad trail through heather benches and across streams led down to Arolla (2:30; ca. 6540 feet) in the valley below.