The Glendale Bank Saga




What became known as The Glendale Bank Saga started in 1981. The US Government promised to let the nation's fifth largest bank, Glendale Federal Savings and Loan, take over a sick Florida bank that had shown a negative net worth of $734 million. At the time of their purchase, Glendale was allowed to make up the sale difference with an intangible asset. That asset was called "supervisory goodwill". The U.S Government agreed that this specially designated asset was to be totally written-off the books in 40 years.


But in 1989, eight years later, Congress changed the rules.

It passed a law that erased "supervisory goodwill" in calculating capital levels. This re-calculation instantly moved Glendale below acceptable capital levels and threatened their bankruptcy. Because of "low capitalization"…as newly re-defined… Glendale's financial position placed them in a category that would risk seizure by the same government that changed the rules of their contract.
So GlenFed, the corporation owning Glendale Savings and Loan (with 215 offices and 3,700 employees), sued the U.S. Government over breach of contract.
In

the July of 1992 suit decision, the Court of Federal Claims voting 9-2 ruled in favor of GlenFed. They determined that the US Government was liable and couldn't go back on its word. The amount granted by the decision? $1.4 billion. A huge amount in damages suffered as a result of a breach of contract.
But the US Government chose instead to appeal that decision and threatened to take the case all the way to the U.S. Supreme Court if necessary.

This threat of appeal and consequent delay would negatively impact GlenFed. So the bank offered to settle for $700 million. The settlement offer by Glendale Bank included their promise that they would issue bargain-priced loans for affordable housing and small business development, with the bulk of the loans to be invested in California's failing economy.
On February 4, 1993, and before any decision had been made, the US Court of Federal Claims told the US Government and GlenFed that they had better find areas of agreement to avoid "an historic legal irony of unparalleled cost and waste" if Glendale Federal happened to again win its still-pending case in higher courts. GlenFed urged government acceptance of the settlement offer soon or the US Government would likely incur massive and unnecessary costs if they went ahead to seize and re-sell the bank…as they threatened to do. Plus the government would inevitably face another suit by the bank for damages.
CEO of Glendale Federal Savings and Loan Stephen Trafton defined three choices to the government:
Essentially, the US Government could pay Glendale's current expenses amounting to $700 million thereby avoiding a breach of contract suit.

The government could purposely wait for their case to drag-on, running a risk that a negative outcome for them would force payment of $1.38 billion (future estimated cost to the bank).

Or the government could seize and re-sell the bank, costing taxpayers $3-4 billion.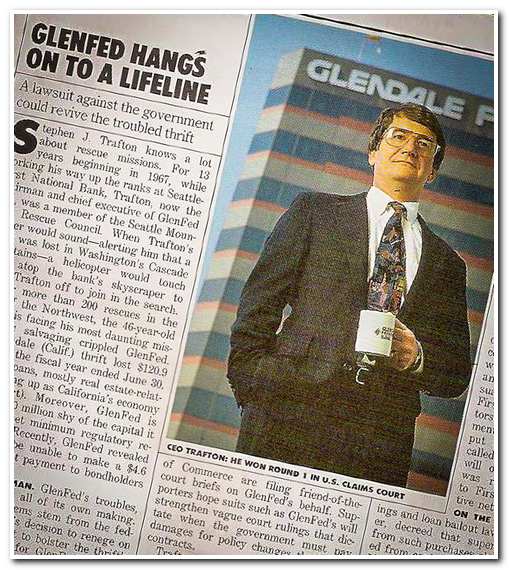 In Trafton's view, accepting Glendale's settlement offer would ultimately mean huge savings to the US taxpayers. Accepting the bank's offer would allow the government to avoid the risk of having to pay out billions of dollars if the bank continued to prevail in the courts. He also noted that it was "the right thing to do, given the government's contractual commitments to Glendale".
Because this could be an incredible and obvious government waste of money, Trafton applied public pressure. His positions were bolstered by The Wall Street Journal and he was featured in other publications including Fortune, Business Week, and Forbes. He ran highly visible advertising campaigns in newspapers, television and radio. (That advertising campaign resulted in a Clio Award.)
But time was a player.
Trafton still needed $400 million in cash-on-hand to be financially acceptable to the Office of Thrift Supervision (OTS) whose regulators had imposed a financial deadline on Glendale. Yet Glendale's financial position continued to slowly improve, so much so that the OTS surprisingly noted and voiced encouragement of the bank's progress. They indicated that they might extend the deadline.
Then, unexpectedly, a 2 to 1 decision by an appeals court reversed the previous ruling which had been in Glendale's favor by deciding that the US Government had not broken their contract and were not liable for $1.4 billion in damages.
This decision immediately deflated Glendale's financial standing and greatly jeopardized the bank's future re-capitalization.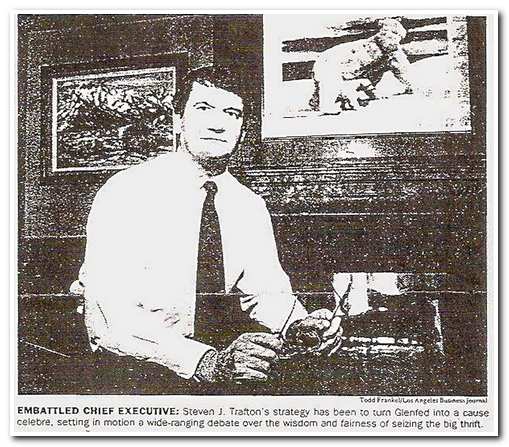 The Seattle Times in noting Steve Trafton's northwest history as a mountain climber wrote that once after escaping an avalanche, he managed to surface through the snow and document the event on his camera…for use in future climbing seminars.
There was a certain parallel to present events; it appeared that Trafton's bank was buried by an avalanche.
But the national magazine American Banker said, "It would be a mistake to write off Mr. Trafton, who has become known for his single-minded devotion to achieving apparently impossible goals." And the Seattle Post Intelligencer, noting his mountain-climbing experience, wrote that whatever peak Steve Trafton now chooses to scale, "it can't compare with the near-vertical slope he pushed his company up this year."

Against all odds, Trafton continued efforts to recapitalize the bank and by September of 1993 he had assembled enough institutional cash to return Glendale Federal Bank to financial stability. It was the largest private recapitalization of a troubled savings and loan in U.S. history. By issuing common stock to about two dozen major investors he raised 451 million dollars. Investors chose to bet on the return of the California economy and Trafton's ability to maintain profitability.

Because of the continuing positive financial conditions of Glendale, the Office of Thrift Supervision lifted their order requiring higher than average capital levels, noting Glendale's "dramatically improved capital position".

Meanwhile, the full 11 member Court of Federal Claims vacated their own negative decision (that had earlier ruled against Glendale in a 2 to 1 vote). This time, they agreed to a full rehearing of the case.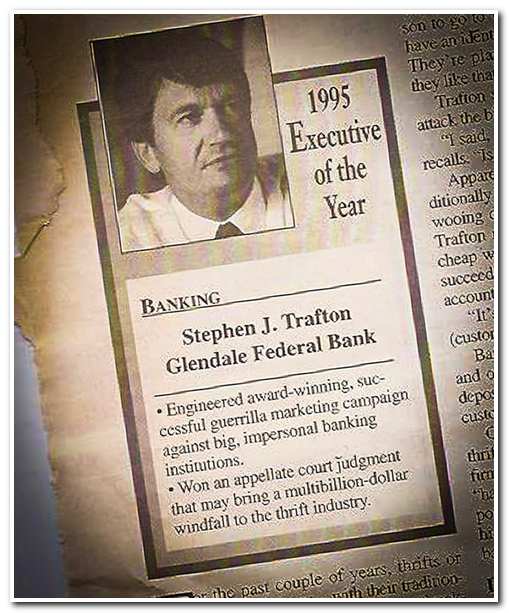 The US Government immediately appealed this decision to the US Supreme Court but lost their appeal.
So the re-hearing went forward and in August of 1995 the full court confirmed again that the US Government did have a legal contract which it had illegally breached. In a stunning and unprecedented decision, the Court of Federal Claims awarded $1.5 billion to GlenFed.
By the time it was sold (in 1998, becoming CitiBank) Glendale Savings was the fastest growing and most profitable bank in California.
(See Wikipedia for more:  https://en.wikipedia.org/wiki/Stephen_Trafton)