The Dent du Midi Traverse
Montreux to Chamonix
2007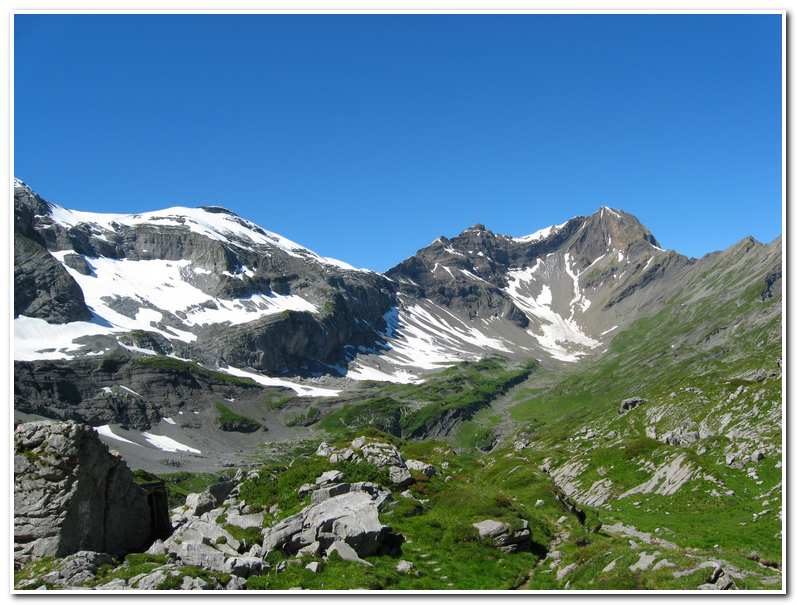 Route from Montreux to Champery
I left Montreux (8:30) and walked southeast along the lake-front promenade on a beautiful cool summer morning. In the distance I could see the Dent De Midi rising into broken clouds beyond the lake toward Chamonix. As I walked the path I passed by small fishing and pleasure boats tied up at the bulkhead and villas set back off the waterfront walkway. After about forty-five minutes I passed the famous Chateau de Chillon, a castle built on the shoreline dating from 1160. From there it was about another half an hour to the town of Villeneuve (9:45) at the east end of Lake Geneva. It was then a short hike through woodland to the town of Noville (10:20) near where the Rhone River empties into Lake Geneva. I turned southeast and followed the Grand Canal (which is actually a small canal which parallels the Rhone) up river toward Martigny. At 11:20 I branched off the canal at a road overpass and walked into the small village of Chessel (12:15)
Every once in awhile everyone has had an object lesson in just how small the world is. I had just such a lesson in Chessel. While hiking that morning I realized that it had been a while since I had trimmed my mustache and it had grown out to the point of itching my nose and lip. Ordinarily this is not a big deal, but with little else but the view on my mind, the itching had grown to become the focal point of each step I took. As luck would have it as I was walking through this tiny village I noticed a small hair salon (the only business in town) adjacent to the town square. I stopped by and through broken French (in this part of Switzerland French is the accepted language) explained to woman that owned the salon that I would like a mustache trim, if possible. She asked me to wait just outside and she would finish with her current customer and then accommodate me.
A few minutes later I was beckoned in and given a seat in the salon chair. I was just getting comfortable in the chair when the proprietress left the room for a couple of minutes and returned with a man who was apparently in his late seventies or early eighties named Ralph. Ralph, it seemed spoke perfect English and we began a pleasant conversation about Chessel and my hikes in the Alps. At some point Ralph asked where I was from and I told him, "a small island near Seattle, Washington", not really expecting him to know anything about Seattle. Ralph's response was "Oh, Seattle, I graduated from the University of Washington Medical School in 1952, I know Seattle well." It turned out that he also knew a lot about Whidbey Island (my home) since he had been salmon fishing there often while he was at the U-Dub. Shortly after graduating Ralph left medical practice and became a journalist. He had moved to Switzerland thirty years ago, married the woman who owned the hair salon and had spent his time as a free lance writer. A small world indeed!
After my visit to Chessel I once again shouldered my pack and continued on my way (12:15). Ralph pointed out a small track which led to a path that followed alongside the Rhone River and featured a grand view up the river with the Grand Muveran rising in the background. The trail continued along the Rhone through farm country with small pastures and crop land as it made its way up the river eventually reaching the outskirts of the city of Monthey (2:45). Here the trail crossed the river on a pedestrian bridge and then made its way around a large chemical factory before entering the town. I walked through town and arrived at the train station at about 3:40 (ca. 1332 feet). I took a well deserved rest after the seven hours and the twenty-three miles I had walked that day.
The last phase of the hike to Champery (6:15; ca. 3150 feet) was alternately up a path and winding road which made its way up-valley in two hours to this popular ski town on the western edge of the Dent du Midi. With more than thirty miles and couple of thousand feet gained that day I happily checked into the Hotel Swiss. After some rest, a good meal and a bottle of wine things were looking up and I was looking forward to the challenge that lay ahead.