Across Mont Blanc
Traverse of the Vallee Blanche

and the Glacier du Geant
July 9, 2009



Al Errington, Katherine Lawrence and Steve Trafton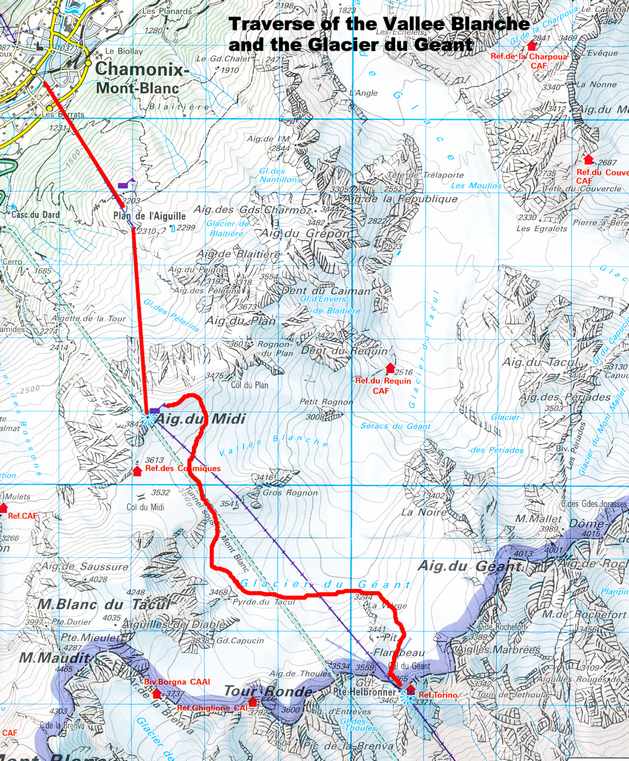 We left the Hotel des Alps after an early croissant breakfast at our favorite local bakery and walked to the Aiugille du Midi tram station and caught the first tram (9:00a). Once at the upper station (3842m – 12,605ft) we went to the climbers' exit which is at the top of the steep knife edged snow arête leading down to the Vallee Blanche. We were ready for our trek across Mont Blanc. After putting on crampons and roping up I led the way with Katherine in the middle of the rope and Al at the end. There were good steps leading down the arête, but it was steep and required careful going since a slip off the Chamonix side could have serious consequences.

Once at the bottom of the arête Al took the lead and we turned east and made a wide loop around and past the large bergschrund to reach the big basin below the Aiugille du Midi. We then started across the Vallee Blanche via a long traverse toward the Col de Gros Rognon (3415m – 11,204ft). From the col we went around under the east face of Mont Blanc du Tacul (4248m – 13,937ft). The glacier gradually flattened and then the route started to rise and cross a large crevasse field as it approached the base Aiguille de Toule. Here we paused and enjoyed the great views across the Glacier du Geant to the Aiguille du Dent du Geant (4013m – 13,166ft).

The crevasse field offered some careful going but was not too serious and soon we turned east and passed under the cables of the gondola. A short distance past the cable we turned south east and climbed gentle slopes to Pointe Helbranner (3462m – 11,358ft), and the gondola station at the Italian border (Refuge Torino). After a short stay at the refuge for pictures and a snack we caught the gondola back to the Aiugille de Midi station and then the tram back down to Chamonix.