July 13 2007 Champery to Salanfe Hutte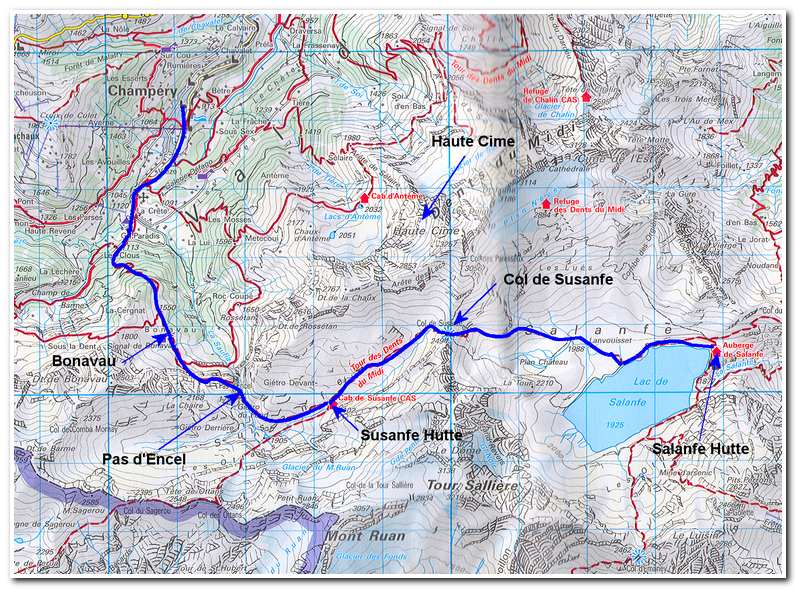 Route from Champery to Salanfe Hutte.
The day dawned bright and clear and, after a hardy Swiss breakfast of granola, yogurt, and an assortment of cheeses, I was ready to start up into the mountains. I walked out of Champery (7:45; ca. 3150 feet) and began the hike toward the Susanfe Hutte, my lunchtime goal for the day. The way out of town led slightly down toward the river and then followed a road along the river rising through a group of vacation homes until it reached Grand Paradis, a camp ground and car park for the ski resort of Champery (ca. 3460 feet). From here signs to Bonavau and Susanfe led to a gravel road which I followed for a few minutes and until a trail branched left and started a steep climb up the hillside. After a while the trail exited on a tarred road which I followed to the left for several hundred yards until the next section of the trail was reached. I then followed this path/farm track and at 9:20 reached Bonavau (ca. 5084 feet).
At Bonavau there were open alpine pastures of wild flowers at the edge of the forest and family farm/chalet where I stopped and had a coke while I rested after the 2000 foot climb up from Champery. Around 9:40 I left Bonavau and started up the high valley toward to the rocky gorge of Pas d'Encel. The trail rose gradually as I passed along the flanks of La Dent de Bonavau and after a short time it transformed into a rocky scramble of carved stone steps with cables and chains for safety. After climbing steeply up through the rock I came to a narrow pass which was the 'gateway' to the interior of the Dent du Midi. This was the Pas d'Encel (10:40; ca. 5900 feet). In another few minutes I reached a footbridge which crossed the stream of La Saufla. Once across the stream the trail traversed up and further into the valley. About a 15 minutes hike beyond the dam, the trail entered a beautiful U shaped alpine valley beneath the north face of Mont Ruan and the south face of the Haute Cime. The trail then wondered up this heather and rocky valley for another ten or fifteen minutes before reaching the Susanfe Hutte (11:10; ca. 6895 feet).
The Susanfe Hutte sits in a beautiful alpine valley surrounded by the mountains of the Dent du Midi and provided a good resting point before I began the trudge up the last long slope to the Col de Susanfe. I spent about an hour and a half resting here and enjoying the view while sipping a cold beer and eating a bowl of homemade mushroom soup cooked by the woman and her daughter who ran the hut.
Pages: « Previous 1 2 3 4 Next »