July 22, 2005 Sargans to Weisstannen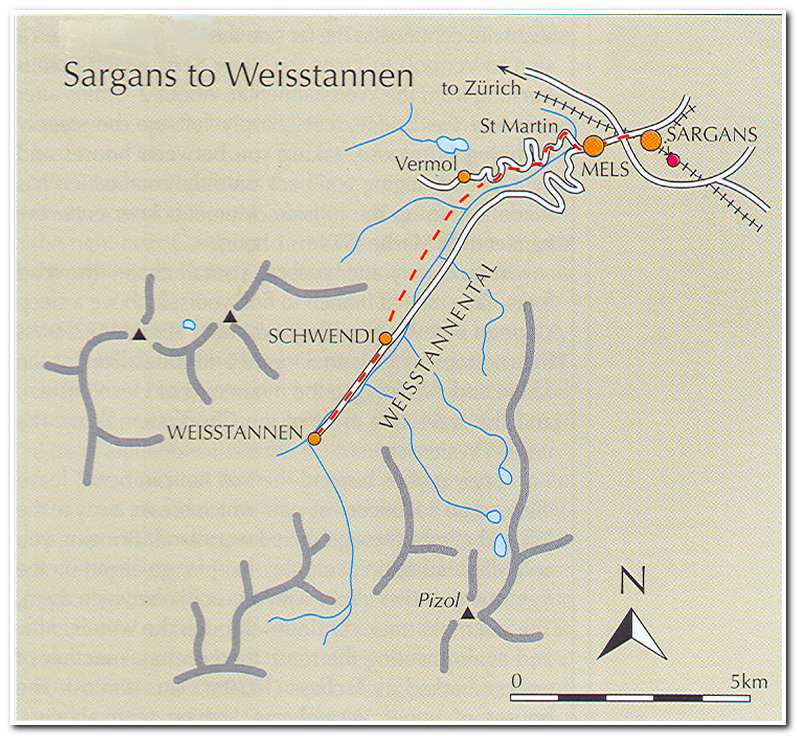 I left from the Hotel Rose in Sargans (8:15; ca. 1580 feet) and walked to the Hotel Ritterhof near the train station. Here I took a path that led behind the hotel alongside the railroad tracks and continued past a residential area before going down some steps, crossing under the tracks and emerging on the short road to Mels (9:15). After continuing to the town square I crossed the River Seez which descends from the Weisstannental. After several minutes I cut left up the steeply climbing track to St. Martin (1880 feet). After passing a small chapel the road forks; the trail follows the left branch. A short distance past the first hairpin turn the trail breaks away to the left and climbs through the woods. I continued on the trail and road to a junction identified as Tschess (10:30). I took the left hand track marked to Weisstannen. At the little village of Schwendi I came onto the valley road and turned right following the road into Weisstannen (12:15; 3240 feet).
Weisstannen is an active farming community. The small church, dedicated to St. John the Baptist dates from 1665. Even though it was raining and my first short day was a wet one, it was good to be on the trail and in the mountains!
July 23 2005 Weisstannen to Elm
I left the hotel at 7:50 the next morning and walked up through the village to a signpost which pointed out the trail to the Foopass. Once out of Weisstannen I followed the road up-valley on the south side of the River Seez. Though the valley was mostly wooded the forest, as I gained altitude it gave way to pastureland and farms. Soon the mountains came into view ahead. Waterfalls and streams drained the hillsides and feed into the Seez, which flowed parallel to the road.
I continued following the track past Alp Vorsiez (8:40), a small restaurant/dormitory. From here I stayed on the road and continued past Glatti (9:10) and up to the end of the road near a remote farm house. A farm track then led up another 2.5 km to Fooalp (6150 feet), and there were several barns and a hut in the high valley below Foopass.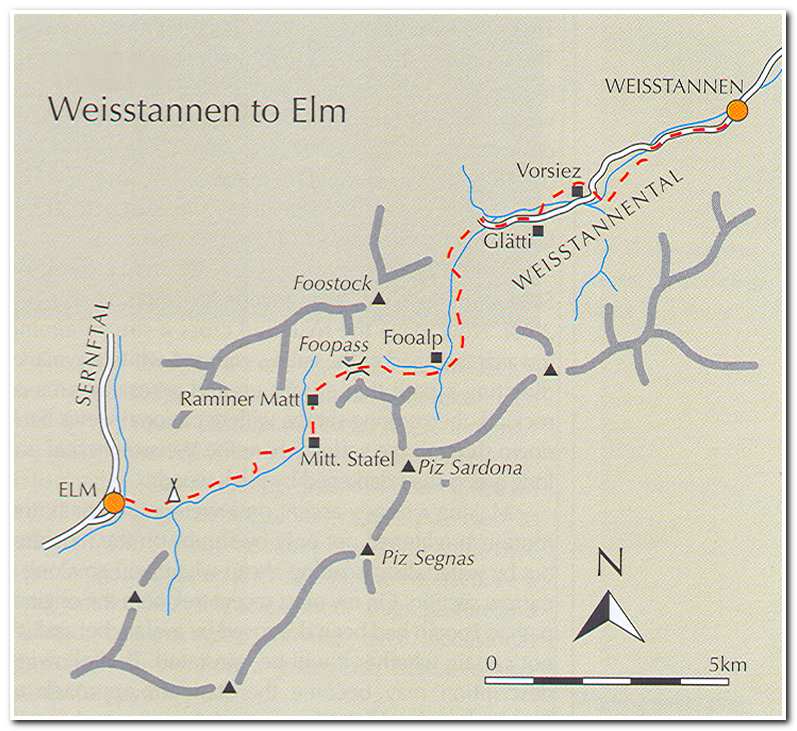 From Fooalp the trail led across a boggy area to a grassy rib that ascended to Foopass (12:00 noon and 7300 feet) about 1150 feet above Fooalp.