Time to Go See the Cars. Oh Goodie!

Ike Trafton writes from Beijing:
After collecting our Chinese driver's licenses this morning – and this is Tim Taylor's shown here on the right (the name says so; just because the picture doesn't) – we headed to the warehouse to pick up the cars.
As you can see, the mad dash to get in the cars and on our way, was somewhat slowed by the number of other entrants admiring the "Revenant" – our car #1.
Car #4, the "Liver Eater" was parked next to the third American LaFrance entry from Austria, known as "The Beast" from its previous successful Peking to Paris Rally in 2013.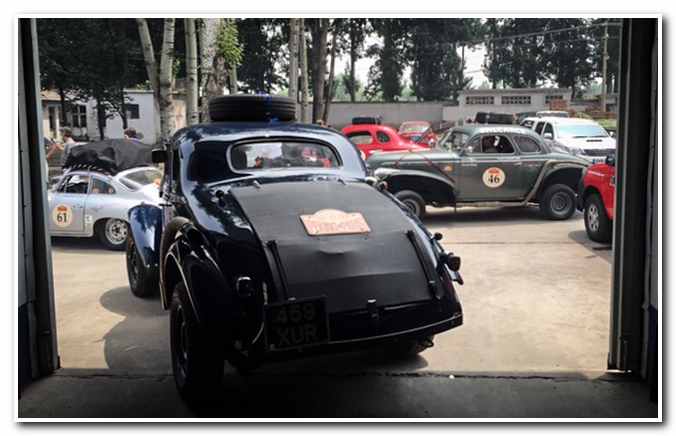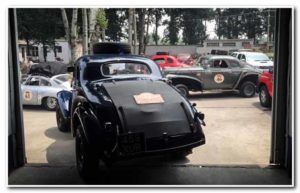 After checking for fluids and leaks, there was a mad scramble to get to the gas station.
.
The two hour drive back through Beijing saw a number of cars overheating, have starter issues, and other assorted challenges. The ALF's took a couple of breaks on the way to the hotel simply to ensure our water temps were managed well on the 90 degree day. Every time we stopped, traffic backed up as the local citizens slowed to take pictures, honk, and generally marvel at the ALFs.
The drive also presented us with our first chance to navigate via the rally tulip book directions. We had no issues, and even recognized when the directions were incorrect by 1 kilometer as we neared the hotel.
.
After arriving without issue at the hotel the ALFs again were scrutinized by the competition as unbelievable pieces of work. Some other rally entries parked across from the "Revenant" and "Liver Eater" at the hotel lot were impressive by their character or their design for speed.
Tonight we are on our way to a cocktail reception, and tomorrow our cars are inspected, as we begin our last prep day in Beijing before the start of the endurance rally.
From Team Black Horse Racing in Beijing, all is well.