Day One. The Race is Underway.

Here is some basic information to help you follow along:
Today's Race begins for the Trafton vehicle #1 (named "Revenant") at 0700 China Standard Time, or 4:00 PM Pacific Daylight Time.

You can follow the live visual progress of the car(s) at this link: 
For more comprehensive directions to follow a specific car, see this link from our previous blog post.
To see a map of the Endurance Race progress to date, go here.
Local China Time (the country has only one time zone) is 15 hours and one day ahead of Pacific Daylight Time. 

Weather Forecast for today's race at Datong, China:

More sun than clouds. Hot.
Hi: 94°F / 34°C
Lo: 69°F / 21°C
Here is the route they followed on their first day of travel:
Katherine Trafton emails:
So happy you are following us! Car #1 and #4 are traveling together. We need to because we cannot travel the speeds of the other cars. We have to watch our temps. We climbed to 220 degrees often today. I could have brewed tea with the water bottles that we stored in the floorboards.
Our challenge is to follow the map correctly which we have done very well, and to try to have no mechanical issues. That requires us to not exceed 40 mph.
 
We had a very exciting day today! The Great Wall was spectacular. Weather was warm. Heavy truck traffic during two of the legs. Up at 0330, breakfast at 0500, in the car at 0530 to get to the start line by 0730.
 
No stop for lunch. Worked on car maintenance (tire pressure spark plug checks, etc) till 2030, dinner, shower and bed! We are car # 1 tomorrow with 0700 departure.

Katherine
.
.
And here is Ike Trafton's daily update: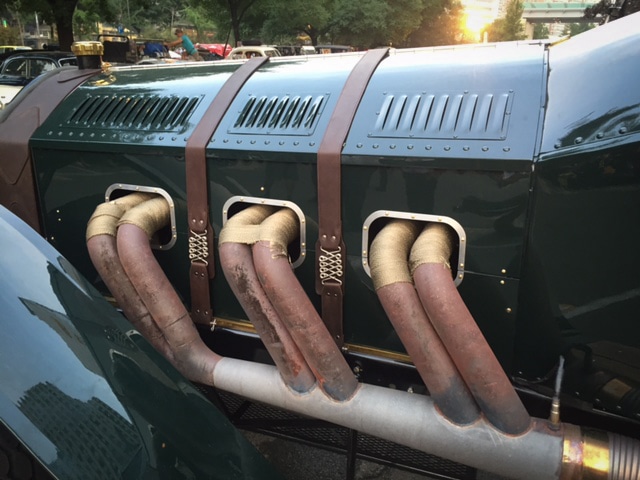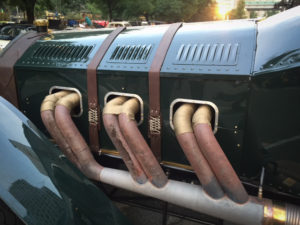 0300 began our prep this morning; we removed the header wrap and we mounted electric fans on the "Revenant" radiator (#1 car) to enhance cooling.
.
.
.
.
.
.
Steve and Katherine would start first and have the honors of the big "photo" start of the rally.
Katherine, as usual was a hit with the dragon dancers who entertained before the start.
While Steve and Katherine are the beauty team in the #1 car, Tim and Ike are the support crew in the "Liver Eater", car #4. We provide the car management and navigation services when required, which isn't too often.
Then, after a quick 0500 breakfast, we hit the road for the start from the Great Wall.
Of course the beauty team has the gas station staffs begging for photos; in fact the hardest part of the trip thus far is the hundreds of Chinese drivers trying to take photos of the two cars. We've even had them race ahead and walk out on the expressways to get a photo.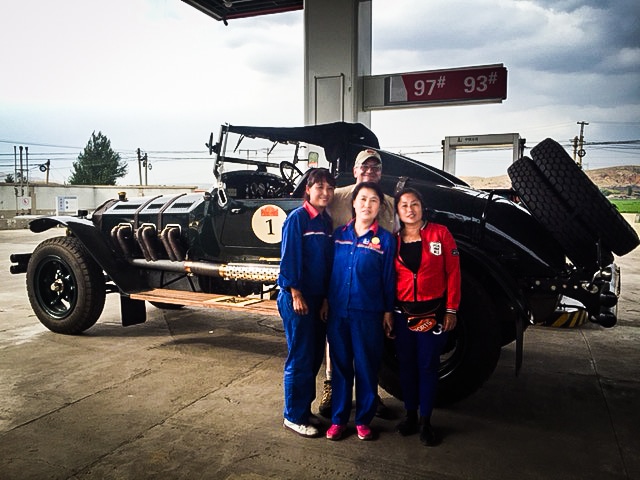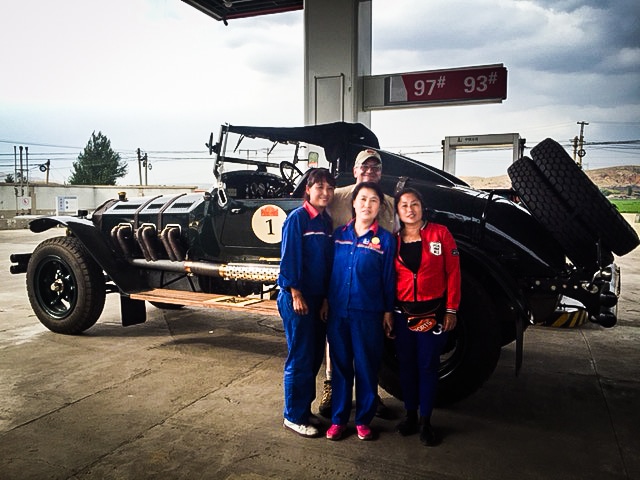 Of course the three hole, coed restrooms at the three gas stops we made today all varied in amenities.
After 12 hours of driving, we arrived in Datong and began our preventive maintenance checks. The first 450 kilometers are behind us, and we have confidence that both American LaFrances are up to the challenge so far.
(Click to see individual photos.)
One question still remains from the day however – did Steve really hit that sheep or not?
Of course,  Datong, China has some great things to see, but if you are in a race, you probably don't have time. Shucks.
.
.
Here is the full map of Team Black Horse journey. It's a long ways to go yet…