July 16 2006 Zinal to Gruben-Meiden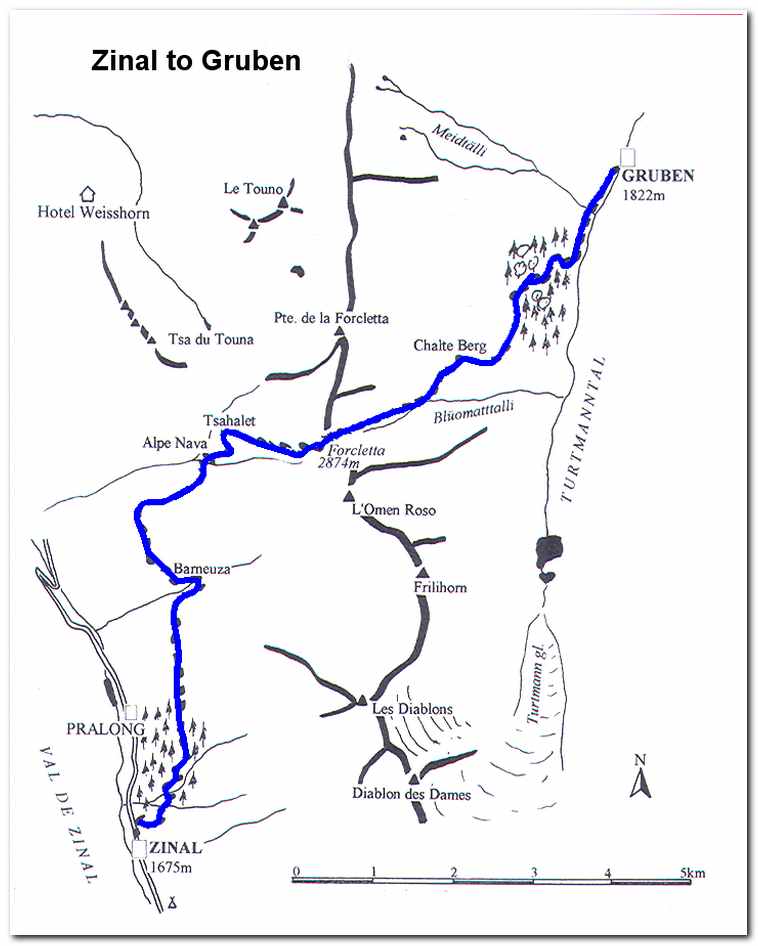 Dwight and Byron and I left our hotel (5490 feet) in Zinal at 6:30 and walked few feet down the main road before turning left and up a side street past the church. We continued up the hillside out of town to the apartment complex signed Formula 1, then crossed the road and walked up a narrow road/driveway with a signpost to Hotel Weisshorn. Above the buildings a way-marked track headed to the right and rose among stands of larch and soon crossed an avalanche defense system. Once across this the path it rose steeply through the forest in a series of steep switch backs which soon lifted up out of the valley. After about 45 minutes from the hotel the route eased a bit and began a gentle, but consistent traverse. About a half an hour further on we came out of the trees and onto a beautiful open shelf of hillside (ca. 7125 feet).
The trail continued its gentle but persistent ascent north along the hillside above the Zinal valley and after about two hours we arrived at Barneuza Alpage a remote little farm amid the high pastureland (ca.7250 feet). The route continued on ahead and in another half an hour we reached Alpe Nava (ca. 7675 feet). Here the trail split, with the left hand path leading on to the Hotel Weisshorn, another hour and twenty minutes further north. The path we wanted, to Pas de Forcletta, followed a steep trail beside a stream into an upper basin before veering left and up to another farm, Tsahalet (8275 feet). The route then followed a trail, up rock slopes in long switch backs across heather and scree slopes to reach the Pas de Forcletta (9:55; ca. 9425 feet).
From the pass the trail slanted down to the left over rolling pastures and came to the farm buildings of Chalte Berg (11:20; ca. 8160 feet). We followed the track between the alp buildings and then followed a trail which paralleled the road later dropping below it to the alp huts at Masstafel (ca. 7330 feet). From here the way descended down through the forest finally coming to the Valley bed about a mile up valley from Gruben-Meiden (12:45; ca. 5980 feet). The weather had turned hot by the time we arrived at Gruben-Meiden and so double the amount of cold beer was ordered to quench the thirst of the weary travelers.