July 22 2006 Arolla to Villa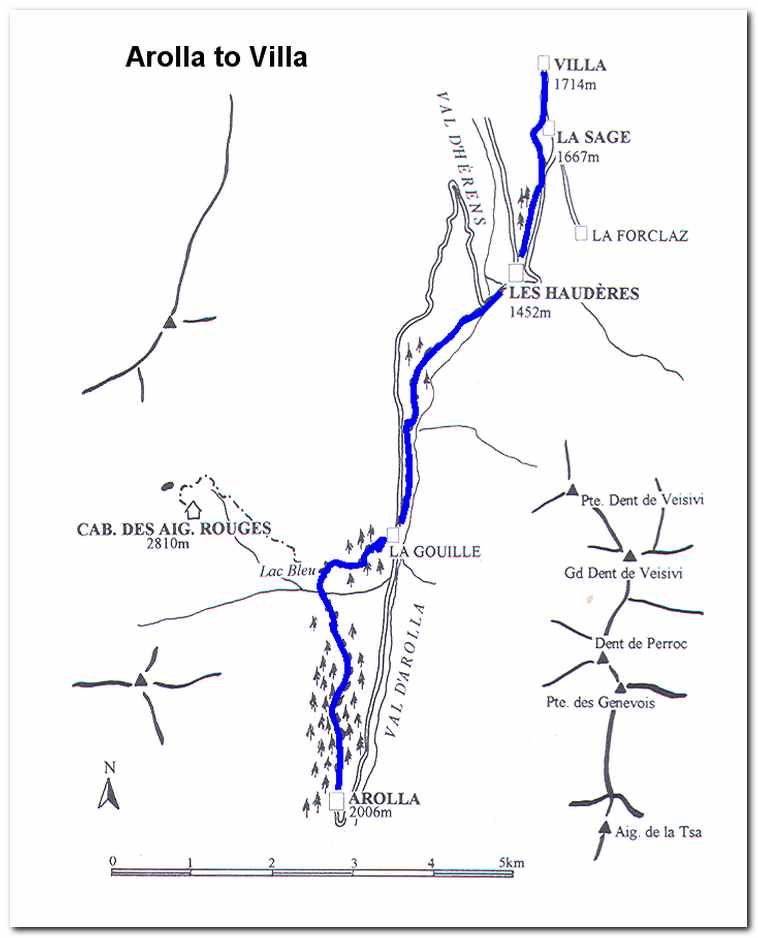 Note the date of the next two sections of the hike (Arolla to Zinal). Dwight and Byron were limited in their time for the hike so we went by bus to Zinal to continue the last portion of the traverse to Zermatt. I returned to Arolla later in the month to fill in the section between Arolla and Zinal, much of which was valley hiking between Arolla and Villa and while pretty, wasn't up to the standard of much of the rest of the hike.
I left the main village square of Arolla about 8:00 and walked down the side road towards the Hotel de Glacier. Shortly before the hotel a footpath broke to the left which climbed and then bore right alone the hillside before reaching the Centre Alpin. I continued on along the wooded hillside gradually ascending and traversing northward before crossing a stream below an alp hamlet. From here the trail continued as a traverse of the now open hillside across several more streams and then onto an open grassy bluff overlooking the Lac Bleu (9:15; ca. 6855 feet).
From here the trail descended from the eastern outflow of the tarn along a path to the alp hamlet of Louche where cheese and milk was produced. From Louche the trail once again dropped through a forest to La Gouille (9:45; 6050 feet), on the road between Arolla and Les Hauderes.
After walking down the road a short distance the trail went right and descended below the road, traversing the hillside above the Arolla River for a little more than an hour before reaching the town of Les Hauderes (11:00; ca. 4760 feet). From Les Hauderes I followed the signs along while alternating road and pathway to La Sage and then on to Villa (12:45; ca. 5620 feet). From here I walked down to Evolene (ca. 4510 feet) and took the bus down to Scion, the train up the Rhone valley to Sierre/Siders and then the bus to Zinal were I spent the night before starting the hike back to Villa to complete the Arolla to Zinal route.