July 11 2006 Col De La Forclaz to Champex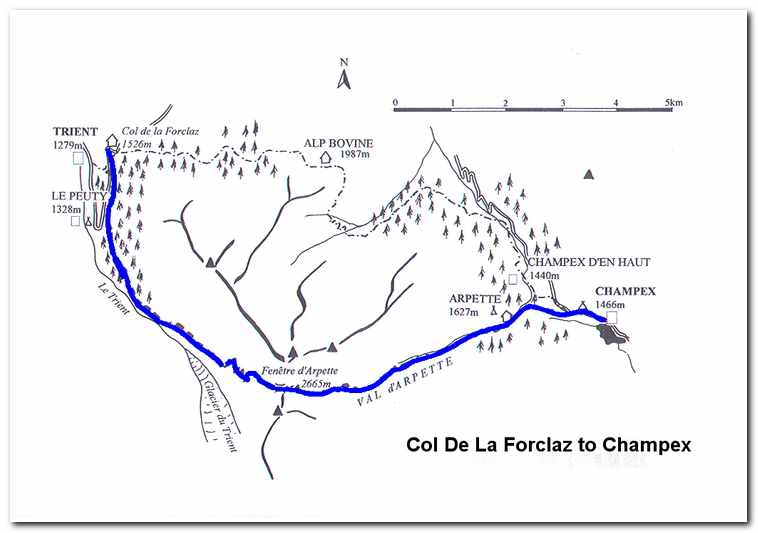 After a leisurely breakfast (7:30) we set out down the level track which traversed along the mountainside, above the Trient River, up the valley toward the Trient Glacier. The first two or three miles were nearly level and followed an aqueduct, or bisse, that ran from the upper reaches of the Trient River and the Col de la Forclaz. After about three miles (8:30), at a remote alpine cabin, the trail turned and began a sharp rise up toward the Fenetre d'Arpette. The route climbed up heather benches and through boulder fields and little patches of trees before reaching the base of the final slopes up to the pass. Here we began climbing a long series of difficult, steep switch backs which ascended sharply until reaching the narrow Fenetre d'Arpette (10:20; ca. 8740 feet). We rested at the col for a while, had a good cigar and psyched ourselves up for the brutal down climb to Champex on the other side of the col.
At first the descent dropped into a rough, stony bowl at the head of the Val d'Arpette. The first hundred yards or so were the steepest, with a lot of loose rock and scree. After this we crossed a large boulder field before the path finally eased and began following the stream down the valley. After about an hour and a half, the path reached Arpette and the restaurant Relais d'Arpette (12:45; ca. 5335 feet). Here our bone weary little troop rested and partook of several 'grosse biers' and Wiener schnitzel. About an hour later we set off once again down the road to a footpath which descended among trees, following a fast flowing bisse which gradually made its way through the woods and took us into the village of Champex (2:45; ca. 4810 feet). From Champex we opted to take a short bus and train ride to Le Chable and then up the hillside the Verbier (5:40; ca. 4885 feet). Verbier is a major ski resort with good accommodations and excellent restaurants. This would be our starting point for the next stage to Cabane du Mont Fort.