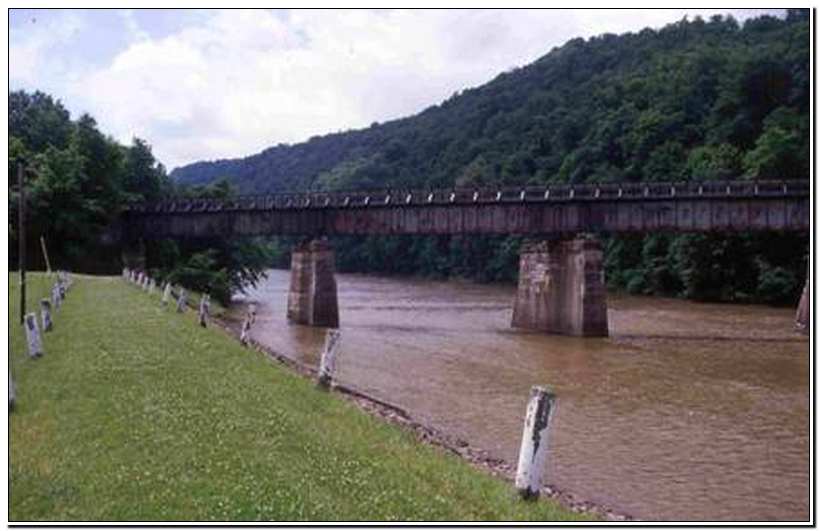 Trail along the Youghiogheny River outside Confluence, Pennsylvania
Confluence gets its name from the joining of the Casselman and Younghiogheny Rivers which then flow as the Younghiogheny River to McKeesport where it intersects the Monongahela River. I stopped briefly in Confluence to find a 'local' who would be willing to help me with the logistics of repositioning my car each for the next several sections of my trip. I was lucky enough to find an out of work coal miner who was more then happy to help out and he agreed to meet me at Ohiopyle that evening and take me back to my car at Rockwood where I would spend the night.
Outside of Confluence the trail entered Ohiopyle State Park. This park was one of the most scenic spots along the entire route from Washington DC to Pittsburgh. The trail through the park follows alongside the Younghiogheny River which cuts through stacked shale cliffs lined with wild rhododendrons and hardwood forests. Since no roads run through the park it is wild and remote and a welcome relief from the roadside path I had so far followed. After about three hours I came to Ohiopyle (milepost 74), a small crossroads within the park. Here I enjoyed a hamburger and beer while I waited for my ride to arrive. By six that evening I was back at the inn in Rockwood.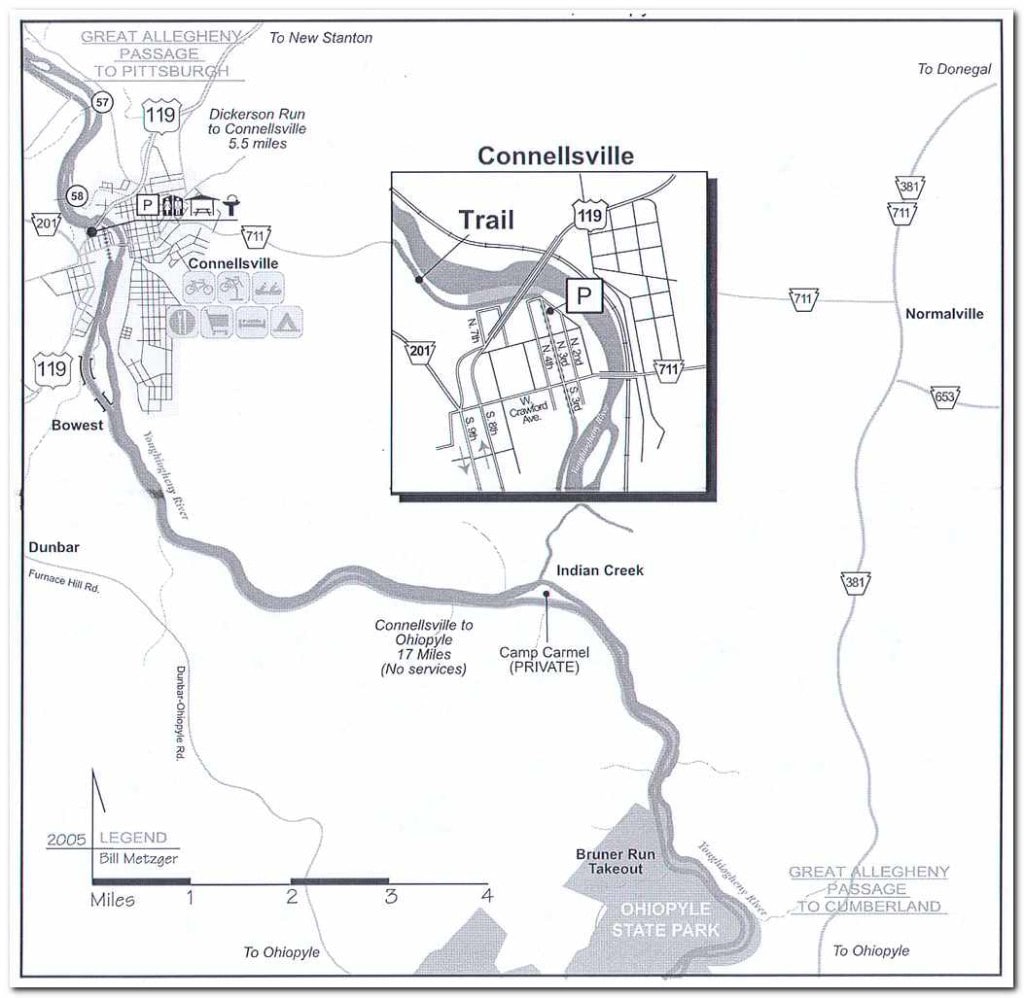 At seven the next morning I drove to Confluence and met my shuttle driver and headed down the road to leave my car at Connellsville (milepost 91) before returning to Ohiopyle to start the day's hike. From the parking lot I crossed over the River twice in the first mile and then continued alongside the river through the park for about five miles. Along the way I took a short detour and walked a mile or so off the path to visit "fallingwater," Frank Lloyd Wright's famous house designed around and built over a stream and waterfall. It was spectacular but I couldn't help but think about the fact that it could never be built today because of the all the environmental rules regarding stream and such. Once on the trail again I continued out of the park along the river past Indian Creek and on the Connellsville, where I spent the night.
Pages: « Previous 1 2 3 4 5 6 7 8 9 10 11 12 13 14 15 16 17 18 19 20 21 Next »